Walking in Assynt
Walkers are faced with a number of choices. They can join walks organised by the local rangers. They can opt to explore some of drovers roads of old. Today these are just footpaths, but in times past they were the routes used by drovers taking their stock to market. Walking these routes needs some planning. One solution is to take the local taxi, (44/0) 1571 844607 or mobile 07808 063 910, which can drop you off at your starting point and, if necessary, pick you up at your destination.
One warning, however, During the latter parts of the year, walkers should ask at the Tourist Information Centre about safe routes to avoid the deer stalking.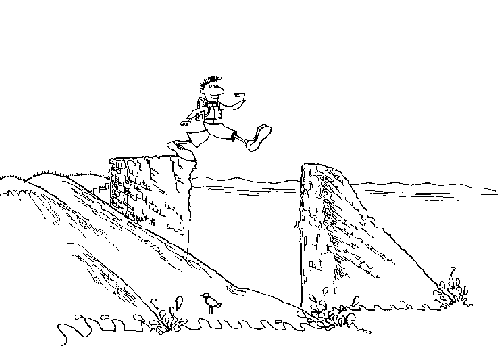 Split Rock. Be careful where you walk!
The Highland Council
Ranger Service in Assynt
Guided walks are listed in the Visitor Centre. The Visitor Centre has maps and lists of open places.
GRADES OF WALKS

Levels of difficulty of walks are indicated as follows:
Access easy, over compact and level surfaces, suitable for all ages & abilities. No special equipment required.
Access reasonable, surface varies from gravel to grass. Sensible shoes and warm clothing required.
Access over rough ground, using established paths on various surfaces and slopes. Walking boots & waterproofs recommended.
Access over rough ground at low level - a reasonable level of fitness is required. Walking boots & waterproof clothes essential.
Access over rough ground and hills - a good level of fitness required. Walking boots and waterproof clothes essential.
All the walks are led by one of the Rangers. It is important though that you think of your own safety and that of any children for whom you are responsible. Remember too that these are country walks in Highland weather so please dress accordingly. Bring sturdy shoes and a sense of fun!
FOR ALL THE WALKS BRING YOUR OWN PICNIC/REFRESHMENTS
SORRY! STRICTLY NO DOGS.


The Ranger Service reserves the right to cancel any of the events
.
All the events listed above are FREE but any donations towards the costs of continuing and developing the interpretive work of the Ranger Service in Assynt are most welcome.
For more information contact Andy, Tina or Roz at the Highland Council Ranger Service (Assynt) on Tel/fax 01571 844654 or call in and see us at the Assynt Visitor Centre in Lochinver or the Ranger Huts at Clachtoll and Achmelvich.