Ardvreck Castle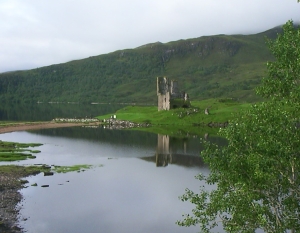 Ardvreck Castle lies on a peninsula on the shore of Loch Assynt. There was an earlier fortification on the island of Assynt on the south side of the loch.

The current castle was believed to have been built in two stages; the first stage about 1500 AD and the second stage about ninety years later. The castle comprises a fairly normal-looking three-storey house with a tower attached. The lower part of this stair tower is circular in cross-section while the square upper portion is mounted on corbels.
The castle was thought to be surronded by a walled garden and a formal courtyard.
The most noteworthy event during the history of Ardvreck Castle was, in 1650, the capture of the James Graham, Duke of Montrose during the Civil war. Montrose had originally been a Covenanter; in fact the commander-in-chief of their army (allied to the Roundheads); who had changed to the Royalists side because he thought that the King (Charles I) could be persuaded to accept the priciples of the covenanters.
The Scots Parliament declared Montrose a traitor and put a price on his head. After three years spent in exile in the Low Countries, Montrose returned to the Orkneys, but he overestimated his support and was defeated at the Battle of Carbisdale. Trying to return to Orkney he diverted to the west to avoid the Duke of Sutherland's forces, which included Neil MacLeod, Xth baron of Assynt.
Montrose diverted too far to the west and ended up in Assynt. It is said that in her husbands absence, Christine MacLeod tricked Montrose into the castle dungeon from where he was taken by troops to Edinburgh. He was tried for treason and on the 21st May was executed by hanging, drawing and quartering.
Twnty-two years later, the castle was attacked by the MacKenzies.