Archaeology
Archaeology is the study of how people lived in times past. There are many signs of this all over Assynt. In prehistoric times people lived in limestone caves and had to contend with many animals not found today in Britain outside zoos.
In Neolithic times, chambered burial cairns exist to the south-east of Ledmore Junction on the shore of Loch Borrolan (see the ordnance survey map).
South of Inchnadamph are a set of four caves, collectively known as the Bone Caves. The name refers to the bones found here. Included were wild cat, lynx, bear, reindeer and four humans.
The Bronze age is represented by a number of roundhouses scattered in remote parts of Assynt, together with a small burial cairn.
In the iron age, the Broch at Clachtoll was built, while the signs of Viking visits are to be found in a number of place names. Names including 'Pol' such as 'Pollan' and 'Pol Craig' are of Viking origin.
During the period of the Tudors and the English civil war, Assynt was led by the MacLeods of Ardvreck Castle. These were later followed by MacKenzies of Calda house.
Another sign of the way of life in times past are the mills of Assynt. These are mainly of the horizontal type. The site of one of these can be seen at Altan Na Bradhan.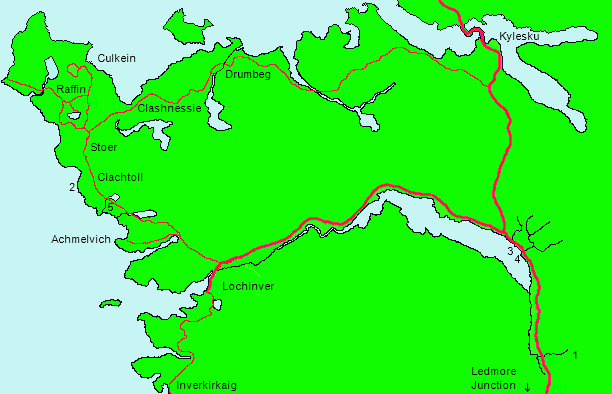 The bone caves
Clachtoll broch
Ardvreck Castle
Calda House
Grain mill at Alta Na Bradhan
Church of Scotland, Lochinver
The material in these Archeology pages has been largely gleaned from Comunn Eachdraidh Asainte (Assynt Historical Society) and
Historic Assynt.